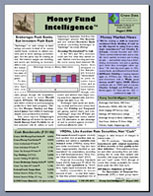 Money Fund Intelligence is a must-​read for money market mutual fund and cash investment professionals. The monthly PDF contains:
Money Market News

- Coverage of cash happenings, new products, companies in the news, people, and more.

Feature Articles

- Stories like "

​

Trading Portals", "

​

Enhanced Cash", and "

​

Brokerages Push Banks".

Money Fund Profiles

- In-

​

depth interviews with portfolio managers and management teams.
Fund Performance/

​

Rankings - Full listings of fund 7-

​

day yields, monthly and longer-

​

term returns (

​

1-, 3-, 5-, and 10-

​

year), assets, expense ratios, and more.

Crane Money Fund Indexes

- Our benchmark money market averages by fund type, plus Brokerage Sweep and Bank Indexes.
Whether you'​re comparing a fund to the competition, benchmarking your cash portfolio to the market, looking for an investment, or looking for new product ideas, Money Fund Intelligence is the answer. E-​mail us for the latest issue!
Latest Contents (Dec. 1, 2023)
Top 10 Stories of 2023: Assets Surge
1
JPMorgan'

​

s 2024 Outlook: Cash Remains
1
CFTC Proposal Allows Only Govt MMFs
1
Money Mkt News, Benchmarks
1
Brokerage Sweep & Bank Saving
8
People, Calendar, Subscription
8
Top Performing Tables, Indexes
9-

​

12
Fund Performance Listings
13-

​

26
---
The content page contains archives and delivery settings for all subscriptions.